Tulipa®

Menstrual cup
Menstrual cup
Tulipa Menstrual cup
The Tulipa menstrual cup puts an end to disposable menstrual hygiene products. Made of TPE, it is soft and flexible and available in two different sizes. The Tulipa comes with a specially designed storage case to protect the cup from dirt while wicking away moisture. In addition, with proper care, the Tulipa can be reused for many years, is good for the environment and is free of BPA, latex and plasticizers. Quality Made in Germany!
Properties
• reusable
• free of BPA, latex and plasticizers
• with practical storage case
• skin friendly
• fragrance free
• vegan
• soft and flexible
• available in 2 sizes
available in 2 sizes
Size 1: 15 ml
Size 2: 20 ml
ecological
avoids waste, reusable
free from
latex, BPA, plasticizers and animal ingredients
Which size is the right one?
The Tulipa comes in two different sizes: Size 1 holds 15 ml and has a diameter of 40.7 mm, while size 2 in turn holds 20 ml and has a diameter of 47 mm. Both cups are 70 mm long in total. Which of the two sizes is the right one depends on several factors.
For light to moderate menstruation, the smaller size is more appropriate. A firm pelvic floor and a low-seated cervix also speak for size 1.
Size 2 is suitable if menstruation is medium to heavy. If the pelvic floor is somewhat weaker, e.g. due to childbirth, or the cervix sits higher up, size 2 can be used.
Folding
Fold the menstrual cup as shown in the picture (C-fold). Of course, you can also try other folds if the insertion works better.
Placing properly
Assume a comfortable position for insertion. The Tulipa is not inserted as deeply as a tampon. It sits in the lower part of the vagina, the stem should no longer be visible.
Removal
By pressing lightly on the lower end of the menstrual cup, you release the vacuum. The cup can then be carefully pulled out. Important: The menstrual cup should never remain in the vagina for more than 8 hours at a time.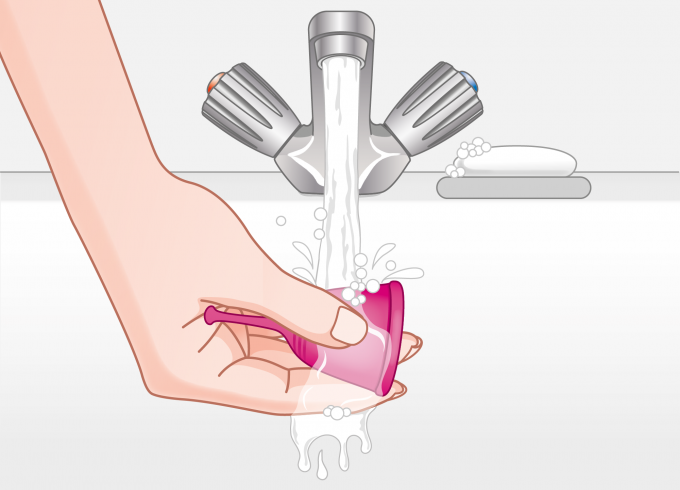 Cleaning
The Tulipa® menstrual cup is cleaned with warm water and soap. After being washed, the clean and dried menstrual cup is stored in the supplied case.
Boiling
Boil the Tulipa before you use it for the first time and after each period. To do this, you can place it in a large pot of boiling water for a few minutes.
Product details
EAN: 4013273002844
Article nr.: Tulipa 1

Certifications
Made in Germany

Manufacturer
KESSEL medintim GmbH
Kelsterbacher Str. 28
64546 Mörfelden-Walldorf
Germany