Contragel®

grün
contraceptive gel for use with diaphragms or cervical caps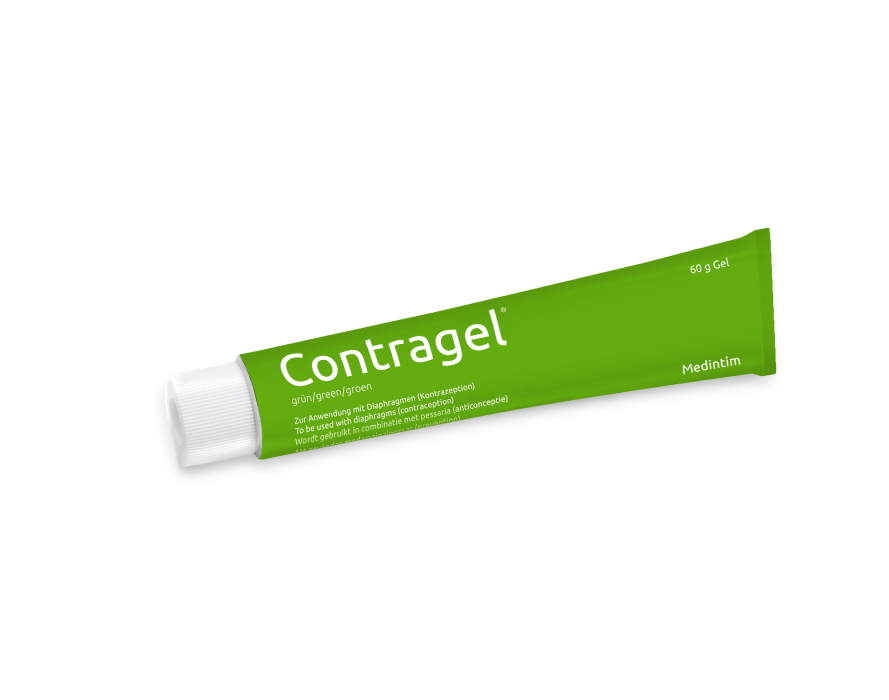 The smart contraception
Contragel® grün is a contraceptive gel for use with the Caya® or Singa® diaphragm. By means of cellulose, it forms an additional physical barrier in front of the cervix and lowers the pH value of the vaginal fluid. The increased acidity and viscosity of the gel inhibit the sperm's motility
Note
Contragel ® grün is water-soluble and compatible with condoms made of natural rubber or polyurethane.
lactic acid
for an acidic pH value
cellulose
as a gelling agent and additional barrier
pH value
has a positive effect on the vaginal flora
The product has been manufactured with this ingredients since 1972. The institute CONRAD (www.conrad.org) could show the effectiveness of Contragel® green in an independent study in 2017.* This study has proven that Contragel® green used together with the Caya® Diaphragm is safe and as effective as Caya® used together with products containig nonoxynol 9.
* Mauck Christine K., Brache Vivian, Kimble Thomas, Thurman Andrea, Cochon Leila, Littlefield Sarah, Linton Kim, Doncel Gustavo F., Schwartz Jill L., A Phase I Randomized Postcoital Testing and Safety Study of the Caya Diaphragm used with 3% Nonoxynol-9 gel, ContraGel, or No Gel, Contraception (2017)
Certifications
CE medical device
certified medical device according to ISO 13485

Manufacturer
DeltaMed GmbH
Raiffeisenstr. 8a
61169 Friedberg
Germany