Caya®

Contoured diaphragm
contoured diaphragm for hormone-free contraception
The hormone-free contraception
Many women want natural and safe contraception - without hormones! With the new Caya® Diaphragm, they can use safe, hormone-free and self-determined contraception when they need it.
The Caya® is inserted into the vagina before sexual intercourse. It covers the cervix completely and is located between the posterior vaginal vault and the niche on the pubic bone. During and after sexual intercourse, the Caya® prevents sperm from entering the uterus. After intercourse, the Caya® diaphragm must remain in the vagina for at least 6 hours.
Properties
• hormone-free
• easy handling
• no side effects
• reusable for 2 years
• latex-free
• no adjustment necessary
• environmentally friendly
• no impairment of sexual sensations of both partners
• always only to be used when it is necessary
• together with the contraceptive gel it offers double safety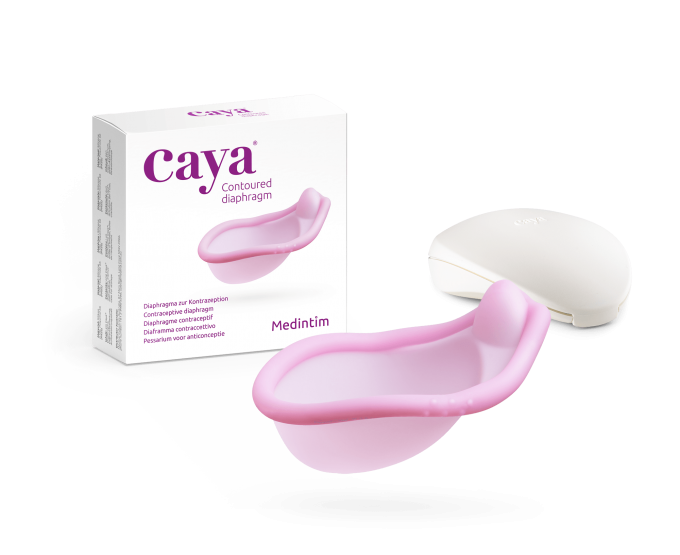 The Caya® Diaphragma is particularly suitable for women
• who only want to use contraception when they have sex
• after childbirth / between two pregnancies
• who have a latex allergy
• in combination with natural methods of family planning (e.g. symptothermal method)
Find diaphragm fitting specialists near you (Germany)
Would you like advice on the diaphragm and are looking for expert advisors at a gynecological practice or family planning center?
Our Diaphragm Finder offers you an online search with specialists in your area:
one size fits most
thanks to its anatomical design
safe and natural
barrier method enables hormone-free contraception
offers efficacy
in combination with the contraceptive Caya® Gel
Due to its anatomical shape, the Caya® diaphragm fits most women who opt for a hormone-free alternative.
A fitting as with the traditional, round diaphragm is therefore no longer mandatory.
If a traditional diaphragm of size 65, 70, 75 or 80 mm was previously used, the Caya® can be used immediately. There is no need for a fitting of a Caya® diaphragm. If the user is unsure whether it is possible to use a Caya® diaphragm, she can ask a doctor or a competent family planning center.
Product details
EAN: 4013273001854
Article nr.: DIA CAYA WEST

Certifications
CE medical device
Made in Germany

Manufacturer
KESSEL medintim GmbH
Kelsterbacher Str. 28
64546 Mörfelden-Walldorf
Germany